Anton Faistauer - the person
The significance of painter Anton Faistauer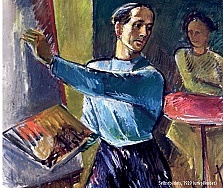 1887-1930

The esteem in which Faistauer's art was held, even during his lifetime, continues unabated to this very day, reflected both on the art market, as well as in critical treatments of his works. In recent years, especially, much has happened: since 2001, the Leopold Museum in Vienna has exhibited an impressive selection of his masterpieces in its so-called "Faistauer Room"; 2005 saw the painter honored with a comprehensive retrospective at the Salzburg Museum, and research was brought up-to-date in a 400-page catalog; the extensive restoration of frescoes at the Salzburg Festspielhaus – Faistauer's magnum opus – was concluded in 2006. In his home town of Maishofen, the Anton Faistauer Forum was founded in 2004, having thus far brought out three publications on special themes. Since summer 2010, Maishofen now greets visitors with a self-guided path illuminating Faistauer's significance for the town – and vice versa.
His aspirations, both for himself and others, his ability and his success were already becoming evident during his years of study in Vienna. In 1910, a number of students led by Egon Schiele and Anton Faistauer would leave the Academy, forming themselves into the "New-Art Group". The first show put on by these dissidents at Galerie Pisko on Schwarzenbergplatz was a striking success.

Exhibitions of the New-Art Group in Prague, Vienna and Budapest, also involving Oskar Kokoschka, Albert Paris Gütersloh, Franz Wiegele and Anton Kolig, proclaimed the breakthrough, good sales of their pictures confirmed the rapidly growing acclaim they enjoyed. Exhibitions followed in Munich, Cologne, Dresden and Rome.

And within a few years, Faistauer had, for all intents and purposes, found his own artistic form of expression. Summer sojourns in Upper Italy directed his attention away from figurative painting towards nature observation and landscape painting. His clear rejection of the decorative art of the Wiener Werkstätte ("Vienna Workshop"), his renunciation of Secessionism and the Klimt group, and his orientation towards the French, especially Paul Cezanne, shaped his future path.

The sketches, portraits, still lifes and landscapes created during wartime were shown at the Wiener Sezession and Kunstverein Salzburg; for his Salzburg collection comprising 13 oil paintings Faistauer received Austria's Golden Medal in 1918.

In the 1920's, works were created that are amongst the most exquisite in painting. Over and over again, however, his health afflictions forced Faistauer to go easier on himself. After stays in Bolzano, on Lake Garda and in San Remo, he had recovered to the point that he was able to participate in the 1925 spring exhibition at the Wiener Künstlerhaus, as well as the exhibition of the "Sonderbund österreichischer Künstler" ("League of Austrian Artists") with Alfred Kubin, Peter Behrens and Clemens Holzmeister in the Salzburger Aula, whilst also chalking up considerable successes in Zurich and London.

Portrait commissions in Munich, where he painted likenesses of Crown Prince Rupprecht, in Vienna, where, in addition to other portraits of high society, he created the famous painting of singer Richard Mayr in the role of Ochs von Lerchenau, in Salzburg and in Cologne, exhibitions in Munich, Leipzig, Prague and Berlin, in Paris, Stockholm and The Hague, Amsterdam, Pittsburgh and more, show that the artist was recognized, much sought-after, and had indeed "arrived". The professor title, awarded to him by the Austrian president in 1926, was a special honor; though he actually turned down an invitation to join the Vienna Academy of Fine Arts, as he did offers from the academies in Stuttgart and Munich.
Such a listing of successes, prizes and honors fails to address the sacrifices which they demanded – plagued by health problems since childhood, by existential miseries during and after the war, by the spiritual sorrow caused by the early death of his beloved first wife, Ida, and the often grueling struggles associated with art.

It ignores the fact that there were and are highly critical voices, which reproach the classical modern artist with being more classical than modern. However, a more sophisticated consideration of Faistauer would not deny him his special position in the history of Austrian art.
Providing the impetus and materials for such consideration is the intent of the hiking path in Maishofen. Here, with the aid of many of his own personal accounts, visitors are able to learn what Faistauer, the painter and the man, was actually all about.